Podcast: Download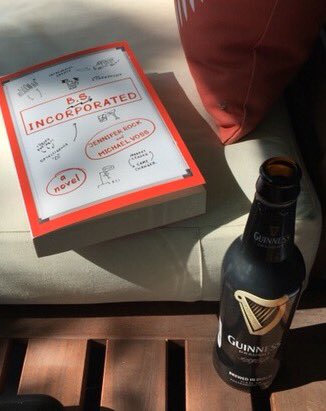 "Michael and Jennifer have been responsible for all press releases and company communication, and serve as my ongoing editing team. There is a reason they have provided communication support for some of the most recognized CEOs in the U.S. – I wouldn't trade them for the world." Johnnie Hernandez, entrepreneur and former Fortune 50 executive
Jennifer Rock and Michael Voss have a shared, lifelong passion for storytelling. They have had the good fortune to work for and with companies that span industries and impact, where they have spearheaded global communication strategy and execution for more than 20 years. In 2013, they struck out on their own to form the communications agency ROCKdotVOSS, and to finish their debut novel – "B.S., Incorporated." The novel has been called "a rich combination of comedy, ingenuity and sass" and was named one of the 10 Best Business Books of 2016 by WealthManagement.com. The book is available at Amazon, Barnes & Noble, iBooks and via RockAndVossBooks.com.
jenniferrock@rockdotvoss.com / michaelvoss@rockdotvoss.com
We are storytellers.
Our shared passion for captivating audiences goes back – way back – to when Jennifer published haikus in her first-grade newsletter, and Mike entertained other kids on the school bus with his creative fiction.
Not surprisingly, our jones for storytelling fueled our individual career paths, where we held roles in journalism, advertising, public relations, marketing and corporate communications. Along the way, we had the good fortune to work for and with companies that spanned industries and impact – from privately held start-ups to Fortune 50 powerhouses.
Our paths crossed at Best Buy, where – for more than a decade, we led the Internal Communications function and spearheaded all communications strategy and execution for the company's 170,000 employees. We counseled and collaborated with senior executives, managed a network of global communication vehicles and events, and developed strategies to ensure the success of complex initiatives such as mergers and acquisitions, international expansion and corporate re-organizations. Somewhere in the midst of it all, we found time to effectively communicate four CEO transitions and build a groundbreaking internal social media program.
Then we struck out on our own, using our combined 40+ years of experience as strategists and communicators to form ROCKdotVOSS – an agency dedicated to helping tell your company's story.
Because whether you're looking to boost employee engagement, increase your close rate or entertain the other kids on the bus, it always starts with a great story.
See our Services page for more about what we do and how we can help. Or contact us directly at michaelvoss@rockdotvoss.com or jenniferrock@rockdotvoss.com.